Your Branded Platform For
Fan Community
Building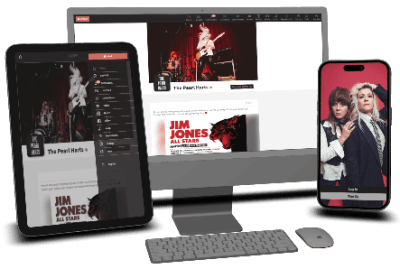 IPHONE • IPAD • ANDROID • WEB
Branded Fan Engagement Apps Across All Devices
Harness the unmatched potential of fan club apps to deepen your fan engagement. With FanCircles, you're not just reaching out; you're resonating. Tailored for every device, from Web to iPhone, Android, and iPad, our platform ensures your brand's authenticity shines through. Bypass algorithmic noise and communicate directly, placing you firmly in the driver's seat of your fan interactions.
Advantages of an Own-Brand Fan Engagement App
We've always been about the people, the fans. FanCircles lets us keep that grassroots connection alive. Sharing our folk-rock vibes directly, without any middlemen feels just right, and FanCircles allows us to do that.
Rock 'n' roll is all about raw energy and connection. With FanCircles, it's like plugging my guitar straight into the hearts of the fans. The live video feature? Man, it's like jamming in a garage, but the garage is the whole world. Pure rock magic!
In the world of the paranormal, direct communication is everything. FanCircles gives us a platform to share our encounters and eerie experiences without any interference. It's the perfect tool for our fans, who are as passionate about the supernatural as we are.
Reggae is about unity, love, and community. FanCircles captures that spirit perfectly. It's not just an app; it's a gathering spot for our fans from all over the world. Sharing our music, stories, and the reggae rhythm directly with them has been a blessing.
Our sound is all about that gritty, raw energy, and FanCircles lets us channel it straight to our fans. It's like being on stage, feeling the crowd's vibe, but every day. The audio streaming? Absolute game-changer. It's the punk rock spirit, but in the digital age. Love it!
Fan Engagement Apps Give Fans A home To Return to Time & Time Again.
With your own fully branded white-label fan engagement app, or fan club app, your fans and followers will have the ultimate fan experience with a slick and easy to onboard route for every user as well as unique fan engagement features including sharing of artist announcements, video broadcasting and audio streaming, as well as a powerful fan community building interface, built for you with our experience, knowledge and market leading fan engagement software. 
For content creators your phone is your mobile admin interface to Go Live, Post and share content while you're on the go.
With a branded fan club platform, you call the shots be that a free fan platform for all or one with additional paid gated premium tiered content for paying subscribers. This is your fan platform for your fans.
Our fan club apps are in app stores. 
On Brand Fan Engagement Apps - Built Right!
Your Own-Branded Fan App In Every App Store, And On Web.